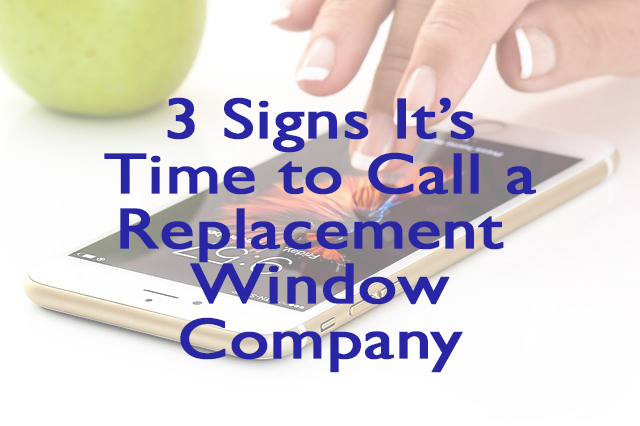 Many homeowners think about calling a replacement window company long before they actually do. We understand that is often because of the expense associated with replacing all the windows in your home. However, if you're wondering if it's time to stop putting off the phone call and get a free quote, here are some signs that you definitely should.
1.     You Can't Get Comfortable in Your Home
Now that we're experiencing cold days and nights, you may find yourself constantly adjusting the thermostat. When you need to do this, it's often because your windows are inefficient. In rooms with more windows, there are more drafts and if you want to be comfortable in those rooms, you'll find yourself turning up the heat or putting another layer on. When you call a replacement window company, they'll help you choose new windows that are more energy efficient and in your budget.
2.     Windows that Don't Open or Close Properly
This is most often the case in older homes with wood windows. Because many homeowners simply paint and repaint their wood windows, they often become difficult to open. Sometimes they're painted shut, which is dangerous in the event you have a fire and need to escape through a window. Other times they don't close all the way because of the many layers of paint which lets in drafts, moisture and pests.
Old vinyl and aluminum windows often have parts in the sash mechanisms that become brittle and break over years of constant use and exposure to temperature fluctuations. These windows often either won't open, won't stay open, or worse, come off their track in strong winds leaving your home exposed.
3.     You Want Your Home to Look Better
Although new windows will improve your home's curb appeal, they'll also look better inside your home. New windows come in countless color and style options so you can choose exactly what you've always wanted. When you call an independent replacement window company rather than a national chain, you'll have more options because they sell multiple manufacturer's products and therefore have more options.
Of course, any reason you have is a great reason to call a replacement window company and schedule a free estimate. Blair Windows & Doors is your local independent replacement window company. We've been serving the greater Indianapolis area for more than 65 years and offer many options when it comes to new windows. Call us today for your free quote at (317) 356-4666 or fill out our contact form.