Serving Metro Indianapolis Since 1955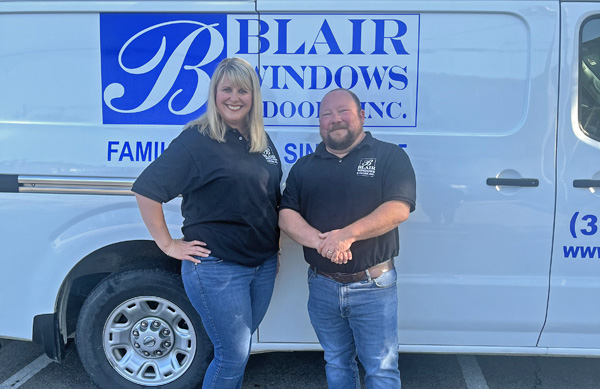 Whether you are shopping for new construction or replacement windows you will find quality products at a reasonable price to fit your needs. Blair Windows & Doors, Inc. has an outstanding reputation for delivering the best service possible throughout Metro Indianapolis. Our knowledgeable staff works hard to make your purchasing experience stress-free. You'll find that our after sales service is second to none.
Our company consists of a small team of window experts committed to filling your needs with field proven high quality affordable new and replacement windows and doors, backed by superior in house service. Our goal is to provide you with a knowledgeable personable experience, that big box stores and lumberyards cannot. Because we're not a national chain, we carefully choose the manufacturers we work with to bring you top quality products that look great at a fair price.
Jennifer joined Blair Windows & Doors part-time as a college student in 2002. After graduation from IUPUI with a degree from the Kelly School of Business she became the office manager. Since then she has been involved in virtually every aspect of the business, which is one of the many reasons she and her husband, Andrew, decided to purchase the business when Jim was ready to retire. Jenny's interest include traveling, shopping, art, and spending time with family and friends. 
Andy brings many years of customer service and home improvement experience to the team. Formerly in the HVAC industry, Andy is looking forward to growing his knowledge base and getting to know more homebuilders & remodelers as he focuses on new construction sales. Andy and his wife have one daughter who is growing up in the same hometown they both grew up in. Andy's interest include golf, music, and cruising in his vintage VW Bus.
Steve brings vast knowledge of windows & doors to the Blair Team. As such, he handles most of the residential replacement window and door sales. He's knowledge can help you confidently find the right windows for your home & budget. Steve is a proud Kelly School of Business graduate. 
Tim is one of Blair's longest tenured team members dating back to the mid-90's. Not only is he the warehouse manager, but also an expert installer and has serviced many windows and doors over the years. Tim has perhaps the deepest product knowledge of anyone on our team. During his free time, he enjoys hunting and baseball. Tim and his wife have two children and a granddaughter. 
A Brief History of Blair Windows & Doors, Inc.
In in 1955, Gene Blair founded Blair Windows & Doors to assist builders with window and door sales and installation throughout the Indianapolis region. After three decades, Gene was ready to retire and sold his business to long-time employee, Jim Meyer. As the company grew under Jim's ownership they began selling and installing replacement windows directly to homeowners. Jennifer Penwell joined the company in 2002, first as a part-time assistant and later as the office manager.

When Jim decided it was time to retire in 2023, Jenny and her husband Andrew decided to purchase the business. Andrew left his career in the HVAC industry to bring his customer service expertise and general building knowledge to Blair Windows with his wife. Together they plan on upholding the tradition of quality products at affordable prices backed by their superior in-house service. Whether you're a building contractor or homeowner, we want to be the window company you call for your new window or replacement window needs.  Let us know how we can be of service to you. Call 317-356-4666 to schedule your no obligation appointment today.