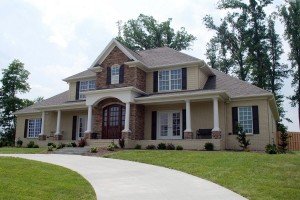 By far today's top selling new and replacement window products are vinyl. However, that doesn't mean they're perfect or that they're aren't any disadvantages of vinyl windows. We sell and install many different window materials (and brands) because we understand that there isn't one product perfect for every home. Today we're going to focus on the disadvantages of vinyl windows and which window material is a better option in those circumstances.
They Will Never Look Like Wood Windows
Perhaps the biggest disadvantage is their appearance. If you have a historic home downtown or a quaint farmhouse the country, we don't recommend vinyl windows. No window manufacturer we've found makes a vinyl window that comes close to emulating the look of wood. Instead, we recommend wood clad windows. Clad windows are wood inside your home so they can be painted or stained. On the outside they're covered in another material (usually aluminum) so you don't have to worry about painting and maintenance on the outside where the weather takes its toll on wood.
Energy-Efficiency of the Frame
Although the National Fenestration Rating Council rates windows on their energy efficiency, they rate the center of the glass, not the frame itself. Although there are some vinyl windows with insulated frames, they still won't equal the energy efficiency of wood or clad windows. When you touch the frame of a vinyl window that's been in the sun, you can feel the heat. And, when it's cold outside, you can touch the frame and know it's cold. That is called heat transference and makes most vinyl windows less energy efficient overall than wood or clad windows.
Aging
Some homeowners see this as the biggest of the disadvantages of vinyl windows. For example, over time fade with UV exposure and can't be painted. Vinyl is also susceptible to sagging, especially when exposed to high heat. Luckily, most of the time, the greater Indianapolis area isn't extremely hot which means we don't see much sagging as the windows age.
Why is Vinyl the Most Popular Window Option?
With these three disadvantages of vinyl windows you may wonder why they're the most popular new and replacement window. It's because of their many advantages and the fact that they are the most affordable window option. Today's vinyl windows come in many energy efficient styles as well as countless colors so you can create the look you want for your home. Call Blair Windows & Doors to learn more about the many new and replacement windows we offer as well as which one is right for your home and budget – (317) 356-4666.