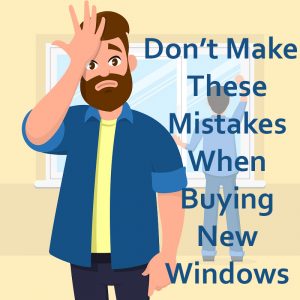 You probably already know that replacing windows in a home is an investment. It's also probably not something you want to do more than one time in any home. That means you should want to do everything you can to ensure that you'll love your new windows not only the day they're installed but for years to come.
1.     Don't Cut Corners to Save a Few Dollars Per Window
Replacement windows come in many styles, colors and with many options. Although you may look at the total estimate of the windows you really want and see a difference of a few hundred or even thousand dollars, think about the per window cost. You will likely realize it's not much per window to get the feature that you really want.
The same holds true for energy efficiency. If you've lived in the Indianapolis area for any amount of time, you likely know that we can have some very cold winter days and some very hot summer days. A window that doesn't let in the heat or cold makes the difference not only in utility bills, but also in the comfort of your home.
2.     Learn About Different Features of the Various Window Styles
Just because your home has single hung windows now, doesn't mean that's what you have to get when replacing windows. Double hung windows, for example offer easy clean as both frames tilt in. Casement windows offer an unobstructed view and are the most energy efficient of all opening windows. Don't just replace your windows, upgrade them to the style you want.
3.     Look at the Options for Each Window
Although manufacturers differ in their offerings, you will have different grid and glass options. Grid styles can change not only the look of your home and windows themselves, but also change the view. For example, a traditional six over six grid blocks the view more significantly than a prairie style grid. Glass options vary too. The visible transference or VT speaks to how much light comes in a window. You can also choose different types of obscured glass for bathroom windows. Do you need impact resistant glass because you are on a golf course? It's an option to consider that will cost you a bit more up front but could save you significantly if you're prone to broken windows.
4.     Hiring the Wrong Window Company
You'll find that there are countless window companies serving the greater Indianapolis area. However, not all of them do a have experience to do the job right, stand behind their work or offer a variety of manufacturers or styles of windows.
Blair Windows & Doors has over 55 years of experience replacing windows and installing windows in new construction homes. Whether you're in a historic or a modern style home, we have options that you'll love that will compliment your home's style and fit your budget and we stand behind our installations. Call us today to schedule a free estimate at (317) 356-4666 or fill out our contact form.