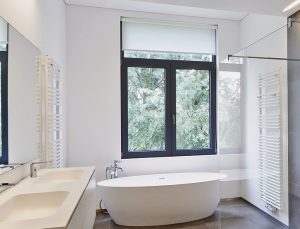 Once you find the window company you want to work with and the brand and style window, you'll need to choose a color for the frame and sashes for your replacement windows. Some manufacturers have a set of standard colors and another set that comes at an additional cost. You'll need to plan on choosing both an interior and exterior window color in most cases. Here are some tips to help you choose the right color both inside and out.
Look at Your Current Window Color
How does it look from the outside? Sometimes the right window color is the same window color you have. Other times homeowners have repainted or replaced their siding and the current window color doesn't work. Do the same from the inside of your home.
Contrast, Compliment or Stay Neutral
If you're having trouble narrowing down your options, decide if you want to make your windows stand out with a contrasting color – like a black on a light-colored home, compliment with a color that blends in with the home's color palette or just stay neutral. Neutrals are the most popular option which is why most window manufacturers offer a grey, beige, off-white and white in their standard offerings.
Interior Colors
The most popular interior color for window frames and sashes is white. This is because most people have white trim and it looks best. However, black has grown in popularity in recent years. Of course, if you have a natural or stained wood finish, you may want to choose a color that compliments or blends with your stained trim.
Customize Your Frames
Some window manufacturers of vinyl replacement windows offer custom colors. You provide a color and they'll match it. This can add and element of uniqueness to your home if done right. Be careful choosing a color too out-of-the-box as it can make selling the home difficult. If the price of custom color windows is more than you want to spend, consider a clad window that you can paint whatever color you choose.
Blair Windows Can Help
Because we have decades of experience with replacement windows of all types, we have the knowledge to help you choose a color that will work with your home. We offer several manufacturer's products so you have variety of windows with many standard and custom color options when you call us. All our estimates are free so call (317) 356-4666 today to schedule your no obligation appointment.