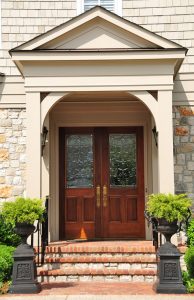 Your entry door says a lot about your home. When it no longer looks its best (or does its job), you may begin looking for a new entry door. Although few homeowners change the dimensions of their entry when purchasing a new door, many do change the style, material or color. Here are some things to consider if you're considering a new door for your home.
Material
The most common door materials are wood, fiberglass and steel. Each has its own benefits and drawbacks.
Wood – If your entry isn't covered or somehow protected from rain and snow, wood is not an ideal material choice. If you have a historic home, wood may be the best option to preserve your home's authenticity. Many homeowners appreciate that you can paint or stain wood doors making it easier to change the color anytime. With a custom wood door company, you can get just about anything you want. Of course, there is a wide price range of wood doors. The drawback of wood is the maintenance required to help them last with repainting and staining.
Steel – Although the exterior of the door is steel, the entire door isn't. Most are filled with insulation because when the door is exposed to direct sunlight, it can get quite hot. Most steel doors come with a baked-on finish which means they require little maintenance, a benefit to many homeowners. You can find many affordable steel entry door options.
Fiberglass – The most maintenance free of all door types. Many manufacturers offer fiberglass or fiberglass/composite doors so you'll have a variety of styles to choose from. The down side is that rarely can you get a custom size door. Fiberglass doors also come in many price points.
Style
Your home's entry door is a focal point of your home's exterior. It's also something that visitors will regularly use. When replacing your entry door, it's best to consider the style of your home and select something that complements it. That doesn't mean you have to choose the same style you currently have. Consider changing the door pattern or add a window, possibly with leaded, obscured or stained glass.
Accessories
We may not think of doors as having accessories, but they do. Sometimes homeowners add sidelights or transom windows to their doors to dress them up or give their pets a view out. Another door accessory is the door handle. Today many homeowners like the electronic locks and that means you'll need a different style handle than if you prefer something more traditional. Also, if you plan on having a peep hole or door knocker, let your door company know because that may change the door material or style you decide on.
Blair Windows & Doors can help you with your door replacement for your home's main entry or garage door. Because we're also a replacement window company, we also have many options for sliding glass doors to improve your home's energy efficiency and security. Call us today to schedule a free estimate for your new entry door – (317) 356-4666.