If you're looking at replacing your windows, you don't have to choose the same color that you have in your home today. When your windows were installed, there were likely just a few choices; white, ivory, tan and brown. Today, vinyl window colors are much more numerous. Different manufacturers offer a variety of options. So, how do you choose the right color for your new windows?
Look at the Options the Brand or Brands You're Considering Offer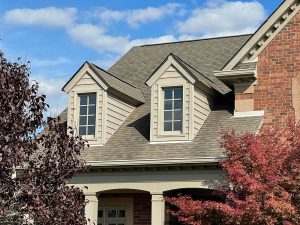 Because there are so many window manufacturers today, you have a lot of colors you can chose from. However, not all manufactures have the same options. Some have similar options – for example, an off-white color, but they may call it something completely different like ivory, cream, beige or just off-white. Once you know the options in the brands you're considering, look at your home. If you're not planning on replacing or repainting your siding, garage door, and gutters you need to consider how a different color window will look on your home. Finally, look at homes with a similar color scheme as yours and look at their vinyl window colors.
Are Black Replacement Windows Right for My Home?
Because black replacement windows are the most common color homeowners choose for their new windows, you may be wondering if they're the right option for your home. Although they're popular and black replacement windows appear to be more than a trend, they're not the right option for every home. They are a good option if you're remodeling your home's exterior and are planning a black and white look. Certain style homes also work well with black. Farmhouse, modern and French country or cottage-style homes. Assuming, of course, that they complement the rest of the color scheme you may want to consider black replacement windows.
We Offer Many Different Vinyl Window Colors
Because we're an independent window company, we offer many brands of windows which means we offer more options than many other window companies. If you want advice as to what color windows would complement your home's exterior, we're happy to give you our experienced and professional advice. Call us today for your free in-home consultation at (317) 356-4666 or fill out our contact form.