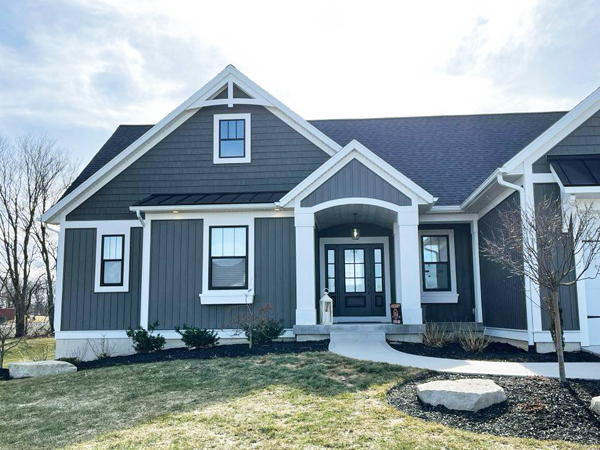 If you're looking for new windows for your home, you've likely come across black vinyl replacement windows. Black replacement windows are one of the most popular colored vinyl replacement windows today. However, they're not the only color and they're not right for every home.
Black Vinyl Replacement Windows Pros and Cons
Black vinyl replacement windows are a hot trend. Although some trends stick around for a long time, not all do. Considering the fact that a window isn't like paint that's easy (or cost effective) to change, we believe that black replacement windows will be around for many years to come. However, on the wrong style home they won't give you the style or appearance you want. They look best on contemporary, industrial and farmhouse style homes. And, although black vinyl replacement windows include Low-E glass and dual and triple panes making them quite energy efficient, they do have one down side. Black windows, or any dark color, have more heat transference than in a light frame, even in a quality replacement window.
Choosing the Color for Your New Windows
Most manufacturers offer up to about a dozen colors standard in their higher end lines for the exterior and slightly less for the interior. As you consider a color for your windows, you'll want to think about how the options from the manufacturer will look both inside and outside.
Our advice for choosing the exterior color is to look at the elements already on your home's exterior – the siding/brick/stone, roof, doors and trim. Look at other homes with the same coloring and see what they have for their windows and decide if you like it. Consider whether you want your windows to be a focal point on your home or to compliment it. That will help you decide if a traditional white or beige is the right choice for you or if colored vinyl replacement windows are a good option.
Let Blair Windows & Doors Help
As a local and independent window company, we offer new and replacement windows from many manufacturers. We have many options for black and other colored vinyl replacement windows. Call us today to schedule a free consultation to discuss the best color, whether it be black, white or another color, replacement windows for your home. Reach us at (317) 356-4666 or fill out our contact form today.