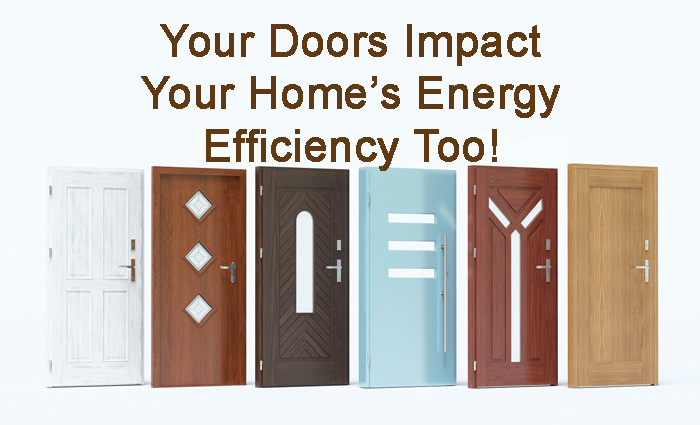 Although we think about things like our home's insulation, windows and perhaps our ENERGY STAR® rated appliances as the key to an energy efficient home, your doors also play a roll. Depending on how many doors you have and the type, you could be losing a lot of heat or cooling through them. Don't just think about your front door. Chances are good you have at least two entry doors. You may also have a sliding glass or other door to your backyard. Here are some things to think about when it comes to your home's doors.
Maintenance is Key
No matter how energy efficient your doors are they require maintenance. If they aren't well maintained, they're not going to keep the heat out in the summer or the cold out in the winter. Your hinged doors, like your front door, garage door and perhaps a French door to your backyard, all have weather stripping. Replacing yours is simple and requires few tools. If you're not sure if you need to replace yours, here tests that will help you decide:
The dollar bill test – If you can slip a dollar bill (or any piece of paper) into your home from the outside around your door, you need new weather stripping.
Visual inspection – When chunks of your weather stripping is missing, dented or damaged, you should replace it.
Leaking light – Look around the edges of your door from the inside on a bright day. If you can see light coming in around your door, it's time for new weather stripping.
Replacing weather stripping is easy. Just measure to make sure you know how much you need and take a small sample to your local home improvement store and get the same size and type. Remove yours, using an adhesive remover if necessary, and install your new weather stripping.
Material Matters
The material of your door impacts its energy efficiency. Although wood entry doors are beautiful and one of the most popular options, they are the least energy efficient. Fiberglass is the most energy efficient door material with vinyl and steel falling in between.
Sliding Glass Doors
Sliding glass doors should be replaced when you replace your windows. Sometimes due to budget, homeowners choose not to at that time. If the sliding glass doors weren't replaced new sliding doors will help your home's energy efficiency and comfort. If your current budget doesn't allow for new windows and doors, replacing your sliding doors will improve your energy efficiency. Make sure to choose a door with dual pane and Low-E glass that's ENERGY STAR rated for Indianapolis.
French Doors
Many homes in Indianapolis have French doors that open to a porch or patio. French doors often have glass so make sure to choose dual pane glass. The door frame material should be considered just like your entry doors. Fiberglass and vinyl are often the most energy efficient for your French doors too.
Blair Windows & Doors offers all types of sliding glass, French and entry doors. If you need new doors for your home, call us today at (317) 356-4666 for your free estimate.