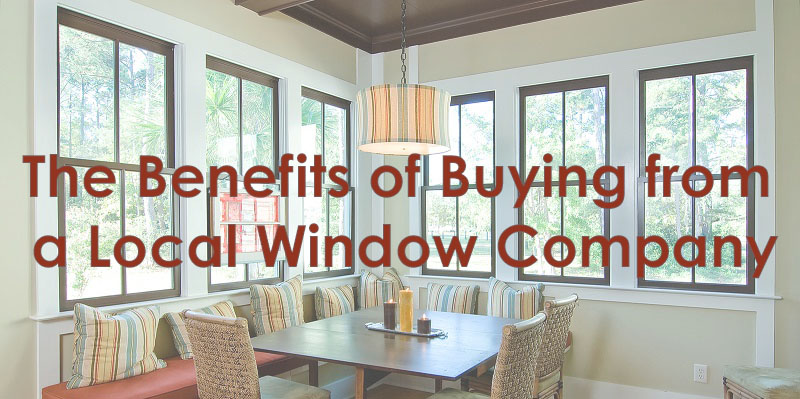 If you need new windows for your home, you may be tempted to call one of the national window companies whose name you hear so often on television. Their commercials sound like they have answers to every homeowner's needs and incredible specials if you call "in the next 15 minutes." This might not be the best decision as there are many benefits to buying from a local window company.
1.      More Knowledgeable Employees
A local window company understands the local weather so they know which products are best suited for your home. You're likely to find that the employees have decades of experience in the industry and really know the products they're recommending. National window companies are sales companies, often pushing the window lines with incentives and sales spiffs on them rather than what is right for the homeowners. When you want a window company, call a local window company rather than a national name.
2.      Wider Selection of Products
National window companies only offer their products. You will have only one brand of windows from which to chose and they may not be exactly what you want for your home. When you call a local window company, they represent multiple brands across many different price points to suite your budget and taste.
3.      Local Window Company Means Local Service
Although both national and local windows companies always strive to install their windows properly the first time, when you buy from a local window company, their service technicians are in your area all the time. You won't need to wait on service because the tech comes from out of state a few times a month.
4.      Faster Installation
When you work with a smaller local window company they have a better handle on your order. You're not in line with people from across the country when it comes to your windows arriving in a warehouse and having them installed. When your windows are ordered, they arrive locally and installation can be scheduled immediately, often resulting in your new windows installed sooner than if you work with a national window company.
5.      Buying Local Helps Your Community
When you buy from a local window company, you're supporting your neighbors. Their paychecks are spent locally which helps another local business. National window companies have to charge more because they have to pay everyone from the sales staff to the installers all the way up to the CEO who may be in another state.
Blair Windows and Doors is a local window company who works with many manufacturers. We can help you choose the best one for your budget that suits your taste and home's style. We have staff members who go back to the early 70's and have vast knowledge of the industry and manufacturers we represent. If you're ready for new windows or are building a house and want us to talk to your architect, call 317-356-4666 today to schedule your free estimate.