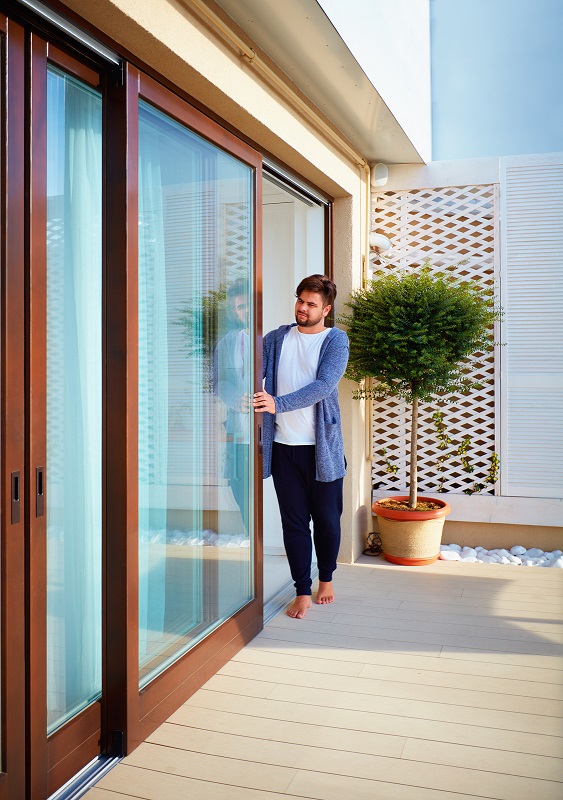 If you're building a house with a porch or patio, you'll need to decide how to access it. Most replacement window companies are also a replacement door company. If you already own a home and are replacing your windows, you should also consider replacing your patio doors. There are two popular options, French doors and sliding doors. They look completely different, have different space requirements, yet have the same purpose. Depending on your space and personal preference, you may decide one is better for your home.
French Doors
One big advantage of French doors is that both doors can open, letting in fresh air and light. When both doors are open, the room may feel much bigger because it will seem that the wall is removed. A downside of that opening is that bugs can easily come in. However, if your space opens to a screened in porch, this might be the preferred option.
French doors have grid styles that coordinate with the grids in your windows or be left as plain glass. A popular option for many is upgrading to blinds between the glass. Just like mini-blinds, they louver or open and close allowing privacy or light to come in. Homeowners with pets love that the blinds are protected from climbing cats and nosy pups. Most homeowners consider French doors the more formal of the two door options.
Sliding Doors
The biggest advantage of sliding doors is that they come in many sizes. Some manufacturers offer three and four panels of doors that gives you a wall that is mostly glass. These nearly unobstructed views may be perfect for your property.
Because sliding doors open across, rather than into the room, they don't require open floor space. This is a benefit if you have space constraints. You'll also find that modern sliding doors are energy-efficient, just like replacement windows. Most manufacturers of new and replacement windows offer coordinating sliding doors for homes.
Blair Windows and Doors is happy to work with you or your architect or builder on the best replacement door for your home. Because we work with many manufacturers, we can find the right French or sliding door for your style and budget. Call 317-356-4666 or fill out our contact form and we'll schedule a no obligation appointment with you to discuss all your window and door needs.