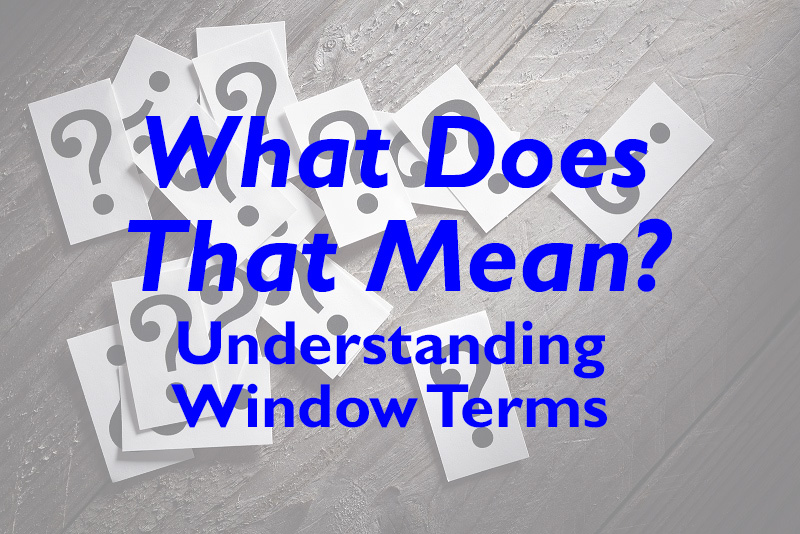 If you're like most homeowners you know that windows have panes, sashes and maybe even understand the difference between a single and double hung window. However, there are may other replacement window terms you'll want a good understanding of before you sign a contract for new windows. Because it's our goal to provide you with as much clear information about your new windows as possible, we've put together this list for easy reference.
ENERGY STAR® Window
A window that meets or exceeds minimal energy efficiency requirements based on geography is classified as an ENERGY STAR window. The National Fenestration Rating Council (NFRC) independently evaluates the window's U-factor and Solar Heat Gain Coefficient (SHGC) and a few other elements. After that, the window can be rated.
Gas Filled Window
All double and triple-pane windows are gas filled. Some are filled with air. Others have Krypton or Argon fill. Krypton and Argon offer slightly more insulative value than air, but that often comes at a cost. You will want to weigh the price difference and increase in energy efficiency before making the choice to upgrade your windows with Argon or Krypton.
Low-E Glass
All ENERGY STAR windows have Low-E glass. However, Low-E glass is a bit of a misnomer. Although we call it Low-E glass it's really a coating on the glass. This coating helps keep out harmful UV rays. During the summer it keeps the heat out and, in the winter, keeps the heat in your home. It is not the same as a window film that blocks sunlight.
Laminated Glass
In addition to Low-E glass your window manufacturer may offer, either as a standard feature or as an upgrade, laminated glass. Laminated glass offers some further UV protection. However, it's main purpose is to prevent the glass from a broken window from going everywhere. Some manufacturers also say their laminated glass windows have more sound insulation than standard Low-E glass windows.
Impact Glass
Few homes in our area choose impact glass. It's more expensive and unless you're on a golf course you're probably not going to need it. Unless your main concern is break-ins, which it can help prevent. Keep in mind impact glass can be broken, just not as easily as standard Low-E glass.
Window Grilles, Grids & Muntins
Many people use these words interchangeably to describe the lines that break up a window. However, they all have their own definitions. A muntin is in wood windows and holds separate pieces of glass together in the sash. Grilles are on the outside of window and can easily be removed to wash the window. They are not as common today as they once were. Most common today are window grids which are between the panes of glass.
Confused About Other Replacement Window Terms? We Can Help
We want the window buying process to be as stress-free as possible. We're happy to answer your questions about replacement window terms, window styles, materials and anything else you're unsure about. Thousands of homeowners throughout Indianapolis have trusted the Blair Windows team for nearly 70 years because of our clear and honest approach to selling new and replacement windows. Call us today at (317) 356-4666 or fill out our contact form today.