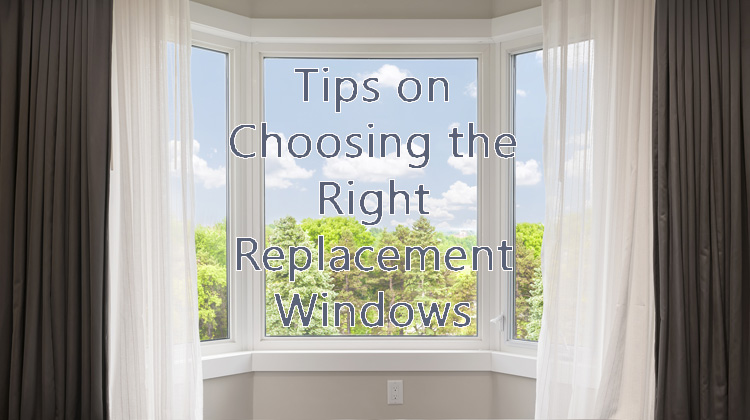 The biggest reason most homeowners have for replacing windows is better energy efficiency. Because of the National Fenestration Rating Council (NFRC), you can easily compare windows of different styles to one another as far as their energy efficiency goes. However, beyond energy efficiency, how do you choose the right replacement windows for your home? Here are some tips to help you with make the best choice.
Select a Primary Window Style
Because most manufactures make all window types, you generally have many options no matter which manufacturer you're considering. Often, you'll end up mixing window types but have one as the primary style. Primary options are generally one of these:
Single-hung – This is likely what you have in your home today. This means the window sash opens from the bottom up.
Double-hung – The most popular replacement window type where the bottom sash lifts up and the top sash lowers for better air flow and easy cleaning.
Casement – Growing in popularity because of the expansive view they offer, casement windows are hinged on one side and open using a hand crank.
Sliding – Just like your sliding glass doors, sliding windows open side to side. Some have only one pane that slides and others allow both to slide which can increase air flow like a double-hung window.
You'll likely have a picture, transom, or sidelight window in your home too.
Frame Material
One of the biggest choices you'll make is the window frame material. The most common window frame material for both new construction and replacement windows in homes today is vinyl. It's long-lasting, comes in many colors and offers good insulation and operation.
Some historic homeowners opt for either wood or clad windows to keep the historic look of their home. The benefit of clad windows is that you can have wood inside but a lower maintenance material like aluminum on the outside without sacrificing the home's historic appearance. Fiberglass is another option but it is more expensive than vinyl which makes it a less popular option for most homeowners.
Air Infiltration/Leakage
Chances are good that one of the reasons you're looking at replacement windows is because you can feel the heat or cold coming in through your current windows. This is called air infiltration (when outside air comes in) or air leakage (when inside air gets out). If you refer to the National Fenestration Rating Council's evaluation of any window's Air Leakage, you'll notice it's always a decimal and never below a .10. The reason it's so important, especially in Indiana, is when strong winds blow, more air is likely to come into your home through your windows unless they have a good air leakage rating. A window with a poor rating (above .31) will lead to higher utility bills than a lower air leakage rating.
Glass, Fills, Grids & Accessories
Finally, you'll want to look at the glass options. Most people looking for replacement windows want Low-E dual-pane glass. This is what most window manufacturers offer standard. You can upgrade to three panes, shatter resistant glass and, with some manufacturers, different patterns on the glass for privacy. The most common fill is air. You will have some increased insulative value with argon or anther glass fill.
The grids, also called grilles or mullions, can compliment your home's style. They also can block your view out the window. The options available range from no pattern at all to the traditional six over six or nine over nine grille and many in between. Finally, accessories or hardware like locks and pulls can be selected on higher end windows. Most vinyl replacement windows come with locks that coordinate with the window frame.
Blair Windows & Doors can help you choose the right replacement windows for your home based on your preferences, style and budget. We offer windows from many manufacturers so you're sure to find the window you want for your home when you call us at (317) 356-4666 to schedule your free estimate.