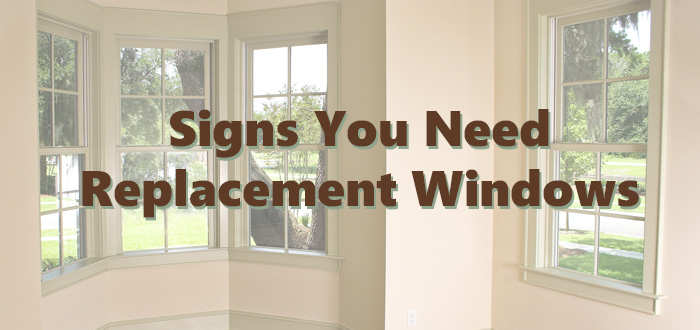 Few homeowners replace their windows more than once in their lifetime so it's not a process everyone is familiar with. And, although age is sometimes a factor in deciding it's time to replace your windows, it's not always the only one. If you're wondering about some of the common signs that its time to replace your windows, here are a few.
They Don't Work Anymore
If you miss being able to open your windows or close them tightly to lock, it's probably time to consider replacing your windows. Afterall, the purpose of windows is to let in fresh air and light and if they don't open and close properly, they don't do half the job intended.
Broken Parts
Sometimes the reason your windows don't work is because of broken parts. Often older windows with plastic parts weaken and break over time. The plastic parts that allow them to open and close easily or even tilt in can break. If you don't feel secure because your locks no longer lock, consider replacing your windows.
Condensation or Leaking
Condensation impacts the other purpose of windows – letting light in. Although every window gets condensation at some point, it's usually on the inside or outside which is occasional and environmentally dependent. When it's between the panes, it's a sign that the window panes aren't sealed as they once were. Often windows with condensation also leak. If your window leak problem isn't solved by re-caulking your windows, there's an issue with the window itself.
Rotten or Decaying Frames
Your window frames are essential to their operation and key to holding the glass in place. When you have old wood windows that aren't properly maintained, they decay, succumb to wood rot or become infested with pests. Once this happens, repair isn't an option. You'll want to replace your windows.
Desire for Better Energy Efficiency in Your Home
Depending on the age and type of windows in your home, they may or may not have any of today's energy efficient features. Things like Low-E glass and dual pane windows really make a difference, especially during the cold winters and dog days of summer here in Indianapolis.
Blair Windows & Doors offers many styles and types of energy efficient replacement windows for your home. We will custom size them to your window openings and install them professionally, offering both the manufacturers and our installation guarantees. Call us today at (317) 356-4666 and be sure to ask about any specials we may be offering.