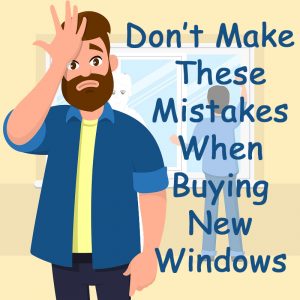 Because few homeowners have experience replacing windows, knowing all the right questions to ask and things to research isn't always easy. In Indianapolis, new windows are not only an investment in your home, but also a way to make your home more comfortable and lower your utility costs. So how do you ensure that you love your new windows and that they do what you expect them to do? By avoiding these common mistakes.
Mistake #1 – Not Realizing You Have Options
Options for new windows in Indianapolis are virtually limitless. From the different window brands to colors and styles, you have choices. Historical homes in the area look best with clad or wood windows. If you have a more recently built home, vinyl windows are likely a better option. For high end homes in communities like many in Carmel, you may want to consider aluminum clad or wood windows.
Not only are there material options but also different window styles. Most homeowners assume that their replacement windows have to be the same style as their existing windows. However, the most common option for new windows in Indianapolis are double-hung windows. Those are windows where both the top and bottom sash slide up and down. Most homes currently have single hung windows where only the bottom sash opens up. Other popular options include sliding and casement windows. Of course, windows come in different colors with different window grids as well.
Mistake # 2- Misunderstanding the NFRC Window Ratings
The National Fenestration Rating Council (NFRC) independently rates all windows sold in the U.S. Their rating tells you may things, if you know what you're looking at. Not only can you learn how energy efficient a window, but also how much light comes through and its air leakage rating. If you missed our previous blog about the NFRC rating, click here.
Mistake # 3 – Failing to Consider Calling an Independent Window Company
You likely realize that you have many options for new windows in Indianapolis. There are the national companies you likely get mailers from. General contractors and roofers also sometimes install windows. Often overlooked are the independent window companies who sell and install windows. When you talk to the various options, you'll quickly realize that the independent windows companies are your best option. They focus on windows. They sell the brands they know are reliable and affordable, because that's what their buyers want.
We Can Help You With New Windows in Indianapolis & the Surrounding Area
Blair Windows is an independent window company with decades of experience. We've been providing new windows in Indianapolis since 1955 and offer many brands, materials and styles. Our team will help you choose the right windows for your home whether you're building a new home or need replacement windows. Call us today at (317) 356-4666 or fill out our contact form for your free consultation.