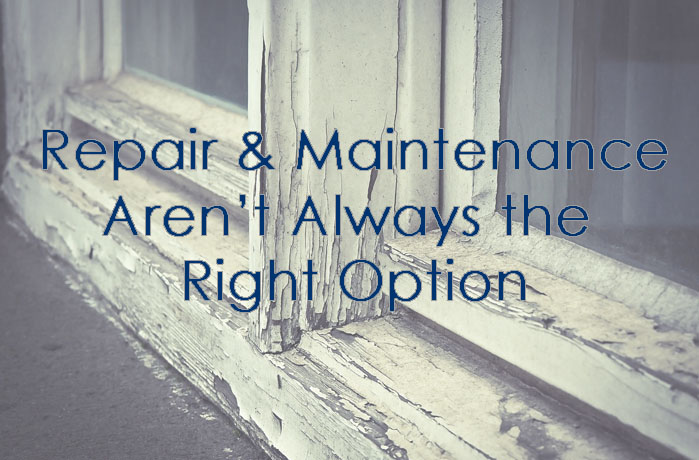 Although every window requires some level of maintenance, the older the window, the more maintenance and repair required. This is especially true with older wood windows. There comes a point when replacing windows rather than repairing them may be a better option. If you're trying to decide if it's time for new windows in your home, here are some signs that it might be time to replace your windows.
Frequent Painting
Rarely do people completely strip a wood window to the bare wood to repaint. Instead, they paint over the old layers of paint. Paint doesn't adhere as well to old paint as to wood, even if you've sanded and prepped it. If you find yourself repainting your wood windows more and more often, you would benefit from replacing the windows in your home.
Drafts
Indianapolis has many lovely communities of historic homes. Many of those older homes have their original windows which adds to the charm, but doesn't make for a comfortable space. If over the winter you noticed that your windows are increasingly drafty, consider new windows. Replacing windows doesn't have to remove the charm of your home as many manufacturers offer windows that look like wood but are wood clad. Wood clad windows are wood on the inside and either fiberglass or aluminum on the outside for less maintenance and increased durability.
Poor Operation
Although our summers have been increasingly hot and humid the past few years, we still enjoy a nice spring and fall where we like to open our windows. Cheap vinyl windows often used by builders in the communities that went up in the building boom 20 – 25 years ago haven't held up well. Many open but won't stay open. We've heard from homeowners whose tilt in panes don't stay in the frame in heavy winds making for dangerous conditions. Old aluminum windows transfer heat and some look bad due to oxidation.
Replacing Your Windows Has Several Benefits
Most people know that new ENERGY STAR® rated windows offer increased energy efficiency for lower utility bills, but that's not the only benefit. Today's windows are designed to look great and without high maintenance. Reduced fading of furniture and carpets is another benefit of replacing windows as Low-E glass blocks much of the UV light that causes fading.
If you'd like to learn more about replacing windows in your home, call Blair Windows & Doors today at (317) 356-4666 or fill out our contact form. We offer free estimates and several financing options to make new windows in your home a reality.