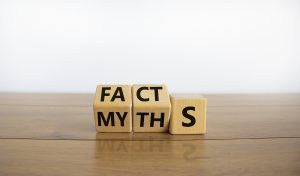 Our windows are an essential part of our home. They have many jobs; to keep the weather out, let in fresh air when we open them, let light in as well as providing security and a view. If your windows don't do their job well, it's time for new windows. However, there are many myths that people accept as fact when it comes to replacing windows. We have the actual facts around these misunderstandings.
Myth #1 – Any ENERGY STAR® Rated Window is the Same as Any Other
This is perhaps the biggest myth that some window companies try to convince you of when you're replacing windows. In fact, there are quality replacement windows and cheap ones. There are different materials and manufacturing processes. They are not all the same quality materials or quality manufacturing. Add to the fact that different window companies offer different warranties and the differences are vast. You can always check how different windows compare to one another by checking the NFRC window rating.
Myth #2 – The Best Time for Replacing Windows is the Spring or Summer
When a window company comes to your house to replace your windows, they don't remove all the old ones and have your home open to the elements for the day. A good window company will have a plan for replacing windows in a home. Usually they start with one or two windows in one room. They'll remove those and then replace those. Typically, a window removal and replacement takes about 30 minutes, depending on the size of the window and any issues found upon the window's removal.
Myth #3 – Vinyl Replacement Windows Will Lower My Home's Value
This is rarely true. The exception is if you are in a historic home where you need a window that reflects the home's style and history. In cases like those, we recommend clad windows. However, on most homes in Indianapolis, whether they have wood, vinyl or aluminum windows, we recommend replacing windows with vinyl windows because they look great, last a long time and can actually increase your home's value over old windows.
Myth #4 – All Replacement Window Companies Are the Same
We know this isn't true because we've helped homeowners who had replacement windows installed by other companies who didn't do it quite right. We've also had homeowners share quotes of other replacement window companies and found that the prices quoted for the same windows can vary drastically. Of course, some window companies are only able to offer certain brands of windows.
Blair Windows is different. We're locally owned and operated and have been serving Indianapolis for nearly 70 years. Our sales consultants take the time to listen to your needs and budget and help you find the right windows. The installers are all highly skilled and will install them properly so you receive the full manufacturer's warranty (of course we offer an installation guarantee too). If you're considering replacing windows in your home, call Blair Windows today at (317) 356-4666 or fill out our contact form.