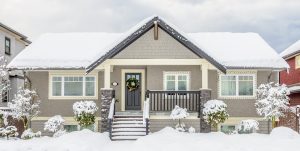 One thing that surprises many people who call for a window replacement estimate for new vinyl windows is that we can install them (as well as any other type of replacement window) any time of year. The only exception is that we don't perform installations in driving rain or snow. If you're looking for a reason to call for an estimate for new vinyl windows this winter, here are three.
1.      We're Less Busy
Because of this common misconception, many people wait until April or May to call for their free estimate. That means when you call for your appointment today, you'll be able to get in sooner. The sooner you learn about the windows we offer and decide that new vinyl windows from one of the exceptional manufacturers we represent are right for you, they'll be completed sooner and we'll have openings in our schedule to get them installed quickly.
2.      You Start Saving Sooner
Winters in Indianapolis can be brutal. A great deal of your home's heat loss occurs through old single pane windows (some estimates say as much as 30% around old windows and doors). From the day we install new double or triple pane windows on your home, you start saving on your energy costs.
3.      Better UV Protection
Few homes that need new vinyl windows have Low-E glass in their windows today. That means that they lack the UV protection that can help prevent fading of carpets, furniture and drapes. Add to the fact that the Low-E glass windows reflect heat (in the winter it's kept in your home and in the summer it's kept out), you'll feel more comfortable in your home.
Installation Isn't Done All at Once
The biggest misunderstanding about the replacement window process is that it's not done all at once. We only remove one or two windows at a time (if they're in the same opening) and replace them. We don't leave your home open and exposed to the elements for hours at a time. In fact, most openings are bare for less than 30 minutes depending on the size of the window and if any structural repair needs to happen.
Blair Windows & Doors can replace your old drafty windows any time of year. It's true we're less busy now than we will be from about April through October. So call us today and find out about new vinyl windows (or clad, wood or any other replacement window material) for your home. Our estimates are always free so call us today so you can start enjoying the benefits from new windows right away – (317) 356-4666.