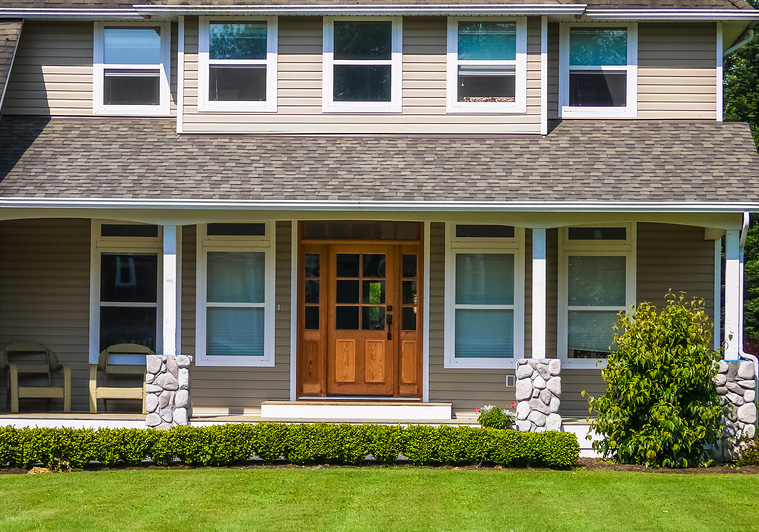 Have you ever looked at a house and thought what great curb appeal that home has? Curb appeal, admittedly is a buzz word most often used by Realtors®, does have applications even when you're not selling your home. Most people take pride in the appearance of their home. They want people to think it looks great, hence has curb great appeal. And, as much as clean siding, nice landscaping and cut grass matters, so do your windows and doors. If yours are detracting from your home's appearance, maybe it's time to call a window and door company to improve curb appeal.
A New Door Can Make Your Home More Welcoming
Most people enter a home through the front door. If your door doesn't look welcoming, what does it say about the rest of the home? Many builders put in a standard solid door without much style or color. Although many doors can be painted for a fresh look, consider a custom door that suits your home's style. Doors can also let in light or allow you to see who is at the door. If your opening is wide enough, consider a sidelight if you want even more light (or have a furry friend who might like to see out).
Replacement Windows Do More Than Improve Energy Efficiency
Although the primary reason many people begin looking at replacement windows is to improve their home's energy efficiency, new windows do so much more, including increasing your home's curb appeal. One of the biggest trends right now is that of contrasting windows. Usually light-colored siding with black replacement windows. This makes your windows a focal point on the home.
If you're not planning on changing your siding and it's a darker color, you can still make a big change with new windows. Replacing windows doesn't have to mean replacing the windows you have with identical new energy efficient windows. Adding a bay or bow window can create visual interest on your home and improve curb appeal, especially if the front of your home has little variation.
Blair Windows & Doors Can Help Improve Your Home's Curb Appeal
Call us today to schedule your free in-home consultation and estimate for new windows and doors. One of our experienced team members can help you find the right style, brand and color windows and doors for your home and budget. Reach us by calling (317) 356-4666 or filling our contact form today.