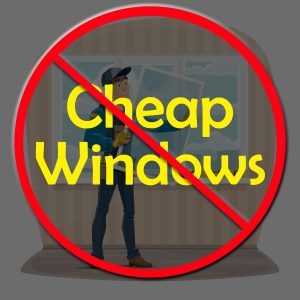 In Indianapolis, vinyl windows are the top selling choice for both new and replacement windows. There are countless options you can choose from. Even if you know which manufacturer's windows you want, you still have many choices. Our advice as an experienced window company; don't choose cheap windows in Indianapolis. You'll only end up disappointed. And unlike that cheap thing you bought on Amazon, your windows aren't returnable.
Not All Indianapolis Vinyl Windows Are the Same
The first and biggest difference is whether a window has the ENERGY STAR® rating for our region. Although a window company can sell any window they choose, not all are ENERGY STAR rated for Indianapolis. The next biggest difference is in construction. Cheap windows in Indianapolis lack things like insulated and welded frames to name a few. Another sign of a lesser quality window is one that uses recycle or remanufactured vinyl. Recycled may sound like a great idea, however, your window won't be as strong and may fade unevenly and sooner than a virgin vinyl window.
When you find several quality ENERGY STAR rated windows to consider, they're likely not the same. You should look at their:
Visible Transmittance (how much light comes in through the window – the higher the number, the more light comes through)
Air Leakage (how much air leaks around the window frame and sash – a lower number is better)
Condensation Resistance (higher the number, the more resistant to condensation)
Locking mechanism – some are easier to use than others and depending on your needs, you may want one that is more child proof or you may even want window stops to prevent the window from opening all the way at times.
Trust Blair Windows & Doors
We've been offering quality vinyl windows throughout Indianapolis and the surrounding areas for more than six decades. We don't sell cheap vinyl windows, instead we sell quality aluminum, clad and vinyl windows for a fair price. You'll never be faced with high-pressure sales tactics of some Indianapolis vinyl windows salespeople use when you call us. Schedule your appointment by calling (317) 356-4666 or by filling out our contact form.