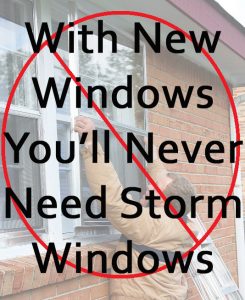 If you're dreading installing your storm windows again this fall, you should consider new windows. Today's replacement windows don't have storm windows because they don't need them. In fact, homeowners who replace their windows quickly learn that their new windows have many benefits beyond just never needing to install and remove them seasonally!
But Why?
We're often asked why replacement windows don't require storm windows. Their purpose is to better insulate the home against extreme temperatures. A modern double- or triple-pane window does exactly that; provide insulation against extreme temperatures. In fact, ENERGY STAR® replacement windows are more energy efficient than most old windows with storm windows. This is not only because of their multiple panes of glass but also because they have Low-E glass which provides additional energy efficiency
Pros & Cons
If you are weighing the pros and cons of keeping your current windows with storm windows and investing in new windows for your home, consider these facts.
You'll save time with new windows – no need to install & replace storm windows seasonally.
No storage – if you struggle with where to keep your storm windows safely when they're not installed, you won't have to deal with that anymore.
Reduced fading inside your home – another benefit of Low-E glass is less fading of carpets, furniture and window coverings.
Less overall maintenance – there's no scraping, sanding or repainting with new vinyl windows.
The only reasons everyone hasn't gotten rid of their old windows is the cost. New clad or vinyl windows cost more than storm windows. However, when you consider all the benefits of new windows including energy savings, potential tax benefits, and how much easier new windows are all around, you may realize the investment of new windows is not what it appears.
Let Blair Windows Provide a Free Quote
Whether you want to replace your wood windows with similar looking windows or have old single pane aluminum windows, Blair Windows has a style window ideal for your home. As an independent window company, we sell and install products from several quality manufacturers. Let us help you choose the right window material, color and style for your home today. Call us at (317) 356-4666 or fill out our contact form today.