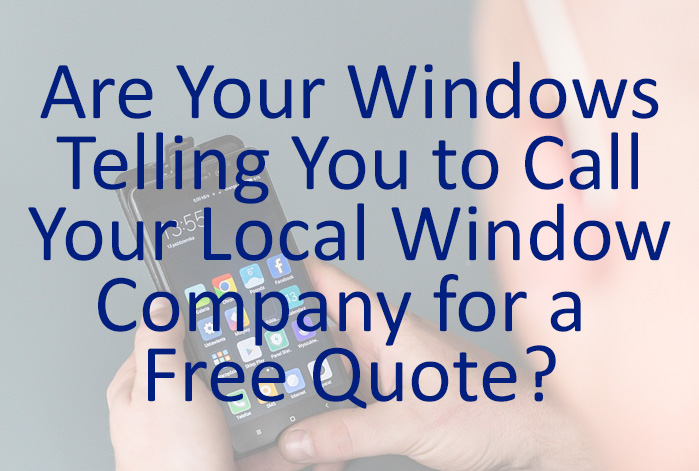 Homeownership comes with a learning curve. Whether this is your first home or not, if you haven't had an issue with your windows, you may not know the signs that your home may be giving you that you need to contact a local window company. Depending on the type of window you have, the signs may vary. Sometimes it's clear, like when the windows won't open or stay open, that you need new windows. However, unlike a air conditioner that just stops working, it's not always as clear that it's time to call a replacement window company.
Your Windows Leak
Although some windows do leak water, many more leak air. If you stand near your window and can feel a draft between the sashes or around the window sill, chances are good that you could benefit from new windows. If you see condensation on a window regularly, your window is no longer sealed properly and therefor can't protect your home or keep the heat in our out.
You Have Single Pane Windows
If your home still has single pane windows, you need to call a local window company. Single pane windows lack much of the energy efficiency of modern dual and triple pane windows. As utility costs continue to climb, one way of combating that is with double pane windows with Low-E glass. Of course, new windows will help your home feel more comfortable too!
An Unexplained Ongoing Pest Infestation
Although we most often see pest infestation with wood windows, vinyl and aluminum windows can have issues too. Bugs can get into the rails (where the sashes move up and down) and create a home. Over time, especially with wood windows, they end up in the window frame and walls and eventually in your home. Although it's most common with termites, it can also happen with bees, wasps and ants. If you have pests that get in your home and don't know where they're coming from, check your windows and then call your local window company.
You Are Replacing Other Things
If your home is getting a roof replacement because it's reached the end of its life, chances are your windows are at the end of their life. Siding also often needs replacing about the 15 – 20-year mark. It's not an absolute, but if you're planning on replacing some exterior elements, consider calling a local window company for a window replacement estimate as well.
Blair Windows & Doors Can Help You Decide if It's Time for New Windows
Whether you came by this article because you searched something like, "do I need new windows?" or because you think you may and have been looking for a local window company to help, please don't hesitate to ask questions. We're one of the oldest local window companies in Indianapolis because we have a great reputation for honestly, high quality products and expert workmanship. Call to schedule your free estimate and in-home consultation at (317) 356-4666 or fill out our contact form.