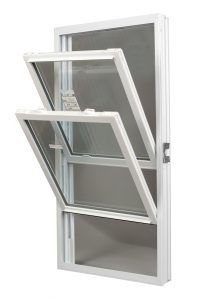 From the street, single hung and double hung windows appear to be the same window. However, they do have several differences. The most apparent to people considering new windows is the increased cost of double hung replacement windows. The small percentage more that they cost is justified in their increased features and functionality.
Window Cleaning
No one likes to wash windows, but we want clean windows. That means we either pay someone to do it a few times a year or we climb up on a ladder risking our safety to get the job done. Some newer single hung windows have one pane that tilts in for easy cleaning from inside the home. And, if you're looking at new windows, if you consider double hung replacement windows, both panes tilt in for cleaning. Making cleaning windows a breeze. The increased cost per window could be made up in just a year or two of window cleanings!
Air Flow and Ventilation
We've mentioned that double hung replacement windows are great at increasing air flow in a home. That's because the main difference in the windows is their operation. A double hung window's panes both move. The top one slides down and the bottom one slides up. That means you can open each pane partially and have air circulation. If you have a window next to your bed and don't want to cool air blowing directly on you, you can simply lower the top pane and still have fresh air in your room anytime.
Other Considerations
Both windows lock the same and most manufacturers offer the same colors, energy efficiency and window grid options in their single and double hung replacement windows. However, something to think about before choosing your new windows are your current window treatments. If you choose a double hung window and want to take advantage of all their benefits, it's not always feasible with roller shades or cellular shades. That doesn't mean you can't use the tilt in for cleaning but it may be more challenging to leave the windows open and the shades closed. Just keep in mind if you're planning to replace your windows and choose double hung windows, you might want to consider replacing your window coverings as well.
Blair Windows Offers Many Window Options
As an independent window company, not only do we offer many styles of replacement windows, but we also offer many materials and brands of windows. Call us today at (317) 356-4666 or fill out our contact form for your free estimate. We'll be happy to discuss with you the various options during our consultation. Call today.