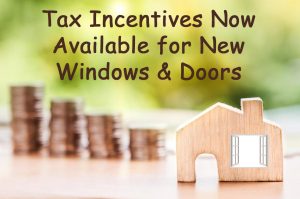 For years there was a lifetime cap on what you could claim when you made energy efficient home improvements. With the passage of The Inflation Reduction Act there are tax incentives available to home (and business) owners. One of the best benefits, especially to homeowners, is the replacement window tax incentive.
Why Windows & Doors
Both windows and doors are included in the items where you can claim a tax credit. Assuming you choose qualifying windows that meet certain ENERGY STAR® guidelines for your region. The reason that there is a replacement window tax incentive is because they, along with doors, are a major source of energy loss in your home. Some estimates attribute up to 30% of the energy lost in our homes to inefficient windows and doors.
What You Need to Know Before Purchasing New Windows
First, there are rules as to what you can buy and how much you'll get back. First, you will want to confirm with your window company that the products you're considering qualify for the tax credit. Second, you should talk to your tax professional to make sure that your income allows you to qualify for the program. Currently there is a $600 maximum benefit for windows and skylights and a maximum of $500 for replacement entry doors. This is a credit against taxes you'll owe, which is much better than a deduction. However, keep in mind that this replacement window tax incentive is not going to pay for your new windows.
Consider a Home Energy Audit
If you know that your home isn't especially energy efficient, you may want to consider contacting your utility company about a home energy audit. Most offer them for a nominal cost and there is a tax credit that applies to that as well. You may learn that not only should you consider new windows and doors but that you need new insulation in your attic or another improvement covered under these new tax credits.
We Sell & Install ENERGY STAR Windows for Central Indiana
Wherever you are in our service area, you can be assured that the windows we sell and install will qualify for the tax credit. Our estimates are always free and because we're an independent local window company, we offer replacement windows from many different manufacturers so you can find one that suits your home's style and your budget. Call Blair Windows today at (317) 356-4666 or fill out our contact form to schedule an appointment.