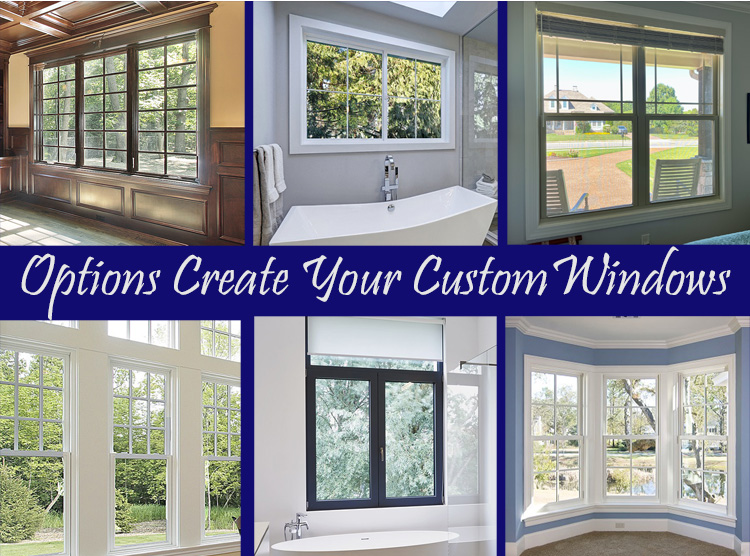 Continuing our series about window style, we're going to talk about the little things you'll need to choose once you know whether you want single or double hung, casement, sliding or some combination of window styles. You and your window company will talk about color, grid or mullion options, glass options and hardware. All influence how your windows look.
Window Frame Color
Perhaps the biggest change you can make to a home when purchasing new windows is in the window frame color. Whether your replacement windows are part of a larger home renovation or a project on their own, you can choose a different color. As you may have noticed, black is the most popular widow frame color other than white. However, it's not right for every home. And, if you do decide you want black replacement windows, decide if you want black only on the outside or on both the inside and outside. No matter what color you choose, you may have the option of something different inside than outside depending on the manufacturer and the line.
Mullion – AKA Window Grids or Window Grilles
Those dividing lines in a window have many names. Although they're often used interchangeably, they are difference between them. No matter what you call them or which option or options your manufacturer offers, you'll need to decide on a style. For many years the most common was the six over six – which is exactly as it sounds, six panes over six panes. However, they obstruct a lot of the view through the window. Recently we've seen more homeowners choose prairie style or a basic half and half. Some homeowners only choose a pattern for their upper window sash and some choose nothing at all.
Glass
You and your window company have already likely chosen double or triple pane windows with a Low-E coating, but there's still a few more decisions regarding glass. If you have a room with a window where privacy is important and you don't want a blind or curtain down all the time, opt for an obscured glass. This allows natural light without being able to see through it. And, if you're in an area where your windows are prone to breakage you may want impact glass, although this won't change their appearance.
Hardware
Not all manufacturers or even window lines from a manufacturer have hardware options. For those that do, you will want to think about the options offered and how they would look inside your home. If you often leave blinds or curtains closed, you may want to opt for the standard option. If your windows are a statement piece in your home, you may want to consider the upgraded options.
Looking for New Windows? Call Blair Windows & Doors
As an independent window company we offer windows from many manufacturers. That means we have more options to create exactly the look you want within your budget. Call us today to schedule your free consultation and estimate at (317) 356-4666 or fill out our contact form.