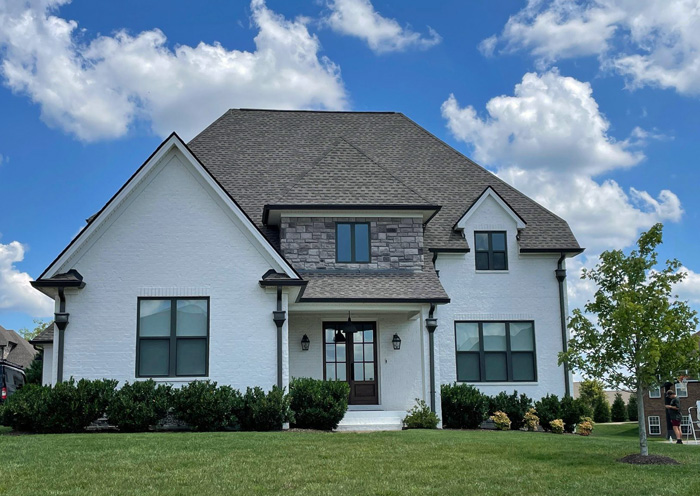 If you're in the market for new windows, you've probably heard that vinyl is the most popular option for replacement windows today. You may also have heard or seen that black vinyl windows are a choice many make. Black vinyl windows inside and outside aren't something every homeowner is ready for. Because of this, some manufacturers offer windows with black exteriors and white interiors. They may be the solution you've been wishing for.
White Inside Coordinates Better with Your Interior Décor
Although there are countless colors of vinyl windows available, most interior window frames and sashes are neutral colors like white, ivory and tan. This is because neutrals work with just about any color pallet in the home and most home styles.
Black Exteriors Are Bold & Give Your Home Great Curb Appeal
If you're planning an exterior home makeover, black vinyl windows are a great way to add curb appeal. You may be surprised to discover that they work well with grey, white, tan and blue home exteriors. The greater the contrast between your siding and trim and the windows, the more dramatic the contrast. Even if you're not planning on new siding or paint, black vinyl windows can make your home stand out even in a community where the homes mostly look the same.
But Are Black Vinyl Windows Too Trendy?
It's impossible to predict when styles or trends will change. Here is our advice: Choose a window color that you love, not what is trendy. You'll likely have those windows as long as you live in that home. If black windows are the look you want and you want white inside, then Quaker Windows & Doors has options for your home.
Blair Windows Offers Black & White Vinyl Windows from Quaker Windows
As an independent window company, we offer windows from several manufacturers. For homeowners looking for black replacement windows, we recommend Quaker Windows products. They offer black as well as many other exterior colors and the finish, in any color, has very little solar heat gain compared to some other black vinyl windows on the market. If you'd like to learn more about our many options for replacement windows, call us today at (317) 356-4666 or fill out our contact form today.