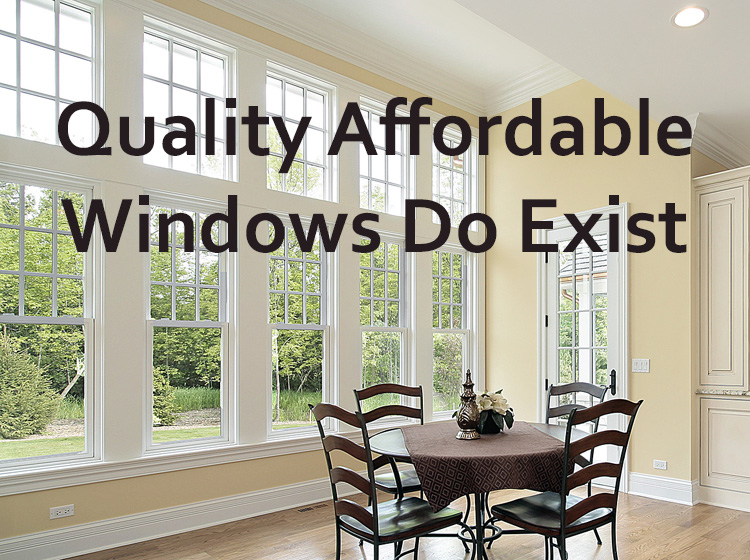 There's not getting around the fact that replacement windows are an investment. We also know there are countless window companies throughout metro Indianapolis offering window installations. If you're looking for quality and affordable windows, we can help. Here's how we do it.
National Brands Cost More – Without Real Benefits
Although styles of window grids and frame color vary from one manufacturer to another, for the most part you can't tell one brand of replacement windows from another. National brands generally have higher prices because of overhead. Not only are you paying for the local installer and their expenses, but also the regional and national offices and all the C-level staff. We're locally owned and operated. That means we don't have many of the expenses a big name would have.
Because of the National Fenestration Rating Council (NFRC) who independently evaluate new and replacement windows, you can compare the energy efficiency of one window brand to another in a tangible way. That means you can determine if the expensive windows you're considering and the affordable windows we offer have the same energy efficiency rating. Then you can compare the construction and materials used in the manufacture of the windows. Finally compare the features and functionality of those two windows. We're fairly certain that you won't find enough difference to justify the higher cost.
We Only Offer Quality Brands of Affordable Windows
Although we offer many brands of replacement windows, Vinylmax is our top seller. If you missed our blog a few weeks ago about Vinylmax and why we've chosen this as one of our brands, click here. We believe in their products because they are exceptionally well made and the company stands behind the windows with a great warranty. If you're looking for wood or wood-clad windows, we have quality manufacturers who offer those as well.
Call Blair Windows & Doors Today
Let's face it, no one is going to ask you what brand windows you have. The question you may get is, "Who installed your windows and were you happy with them?" At Blair Windows & Doors, it's our goal to provide our customers with quality products at an affordable price that they love while exceeding their expectations. Call us today and experience the Blair Windows difference – (317) 356-4666. You can also fill out our contact form.