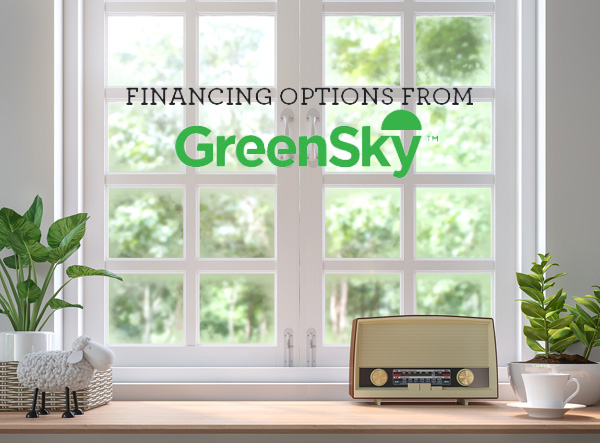 If you wish you could replace your windows but feel the cost is out of your reach right now, consider using our replacement window financing through GreenSky®. We offer both low interest and no interest options for replacement window financing. In fact, GreenSky offers many different plans that can help you stay within your budget goals on just about any home improvement project.
Why GreenSky® Financing
We haven't always offered financing. In fact, this is the first time we've partnered with a company who can help homeowners achieve their remodeling goals. Not all companies offer the benefits we found with GreenSky. Their home improvement financing covers many different types of home improvements including replacement windows and doors.
Some of the benefits we found with them is that they offer up to $55,000. Not that anyone should need that for new windows, but if you're replacing windows in conjunction with another home improvement project, you can finance the whole thing with one company. We also love the fact the entire application process is paperless. This protects your sensitive information. You can fill out their application from their mobile app or online and have a decision within minutes! We never see your personal information, it's between you and them.
What we appreciate the most is that they let you, the customer, choose the financing program that's best for your situation. Some options, depending on your credit, may include deferred interest for a certain time period, low interest, or even no interest. The deferred interest loans still require payments but at 0% interest for the promotional time period. You may be able to select the term of your loan as well.
What Products Qualify?
GreenSky Loan Program can be used on any of our replacement window and door products. Whether you're looking for vinyl, metal clad, or wood replacement windows, you can use their funding. You can also utilize their financing for entry and patio doors, skylights and glass block decorative windows.
If you're ready for new windows but you don't want to use a high interest credit card and don't have the cash for the entire project, let GreenSky® and Blair Windows help. Call us at 317-356-4666 to schedule your in-home consultation, and then click here to apply for your replacement window financing. The application is simple and paperless and you'll know within minutes if your financing application was approved.