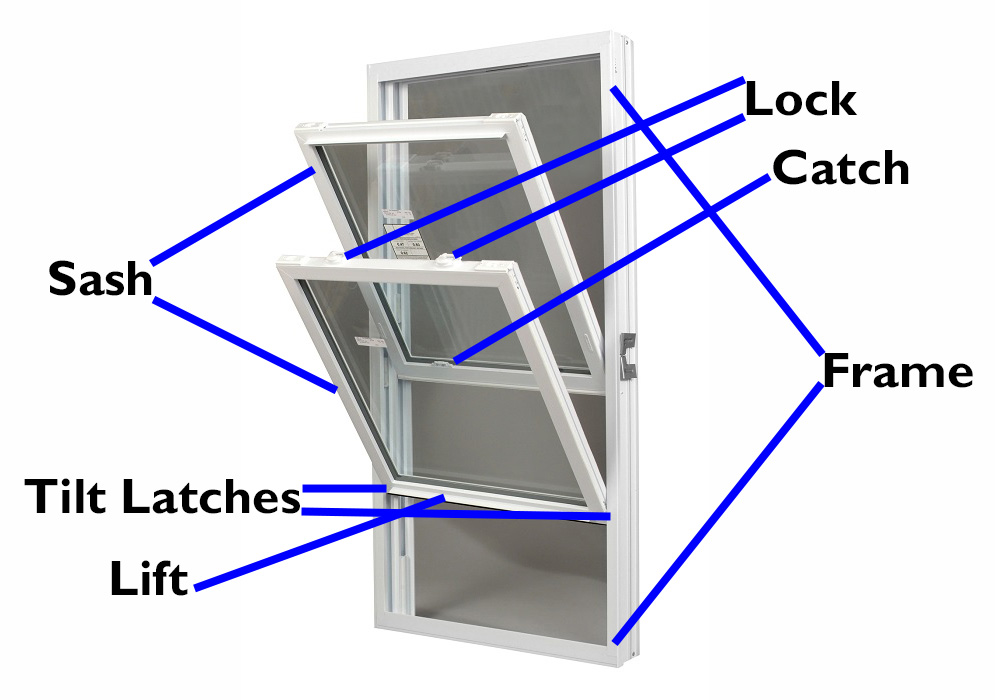 Whether you're looking at windows for an addition to your home, building a home or it's time for replacement windows, understanding as much as you can about the window's parts can help you make a better-informed buying decision. Simply choosing a double-pane window or vinyl window isn't enough. When you understand the parts of a window you better you end up with a higher quality window and one that you truly love.
The Frame
The window frame supports the window. It also holds the window into the opening in your home. And, of course the window sash or sashes. However, the frame itself has several subparts. First is the head which is the horizontal beam at the top. The jamb are the vertical parts on the side. And the window sill or stool is the bottom of the frame. Depending on the window style, you may have a check rail in the middle part of the window where two sashes meet.
The Sash
Window sashes are the frame that hold the glass or window glazing. Most people know that a single pane window is the least energy efficient and triple pane or triple glaze windows are most efficient. However, the majority of homeowners choose a double-pane window. Just as important as how many panes of glass is how the sash is made. If you choose vinyl windows, you want to ask if the option you're considering has fusion welded sashes. Often the window frame is fusion welded but the sash is not which can lead to windows that shift or leak.
The Other Parts
There is more to a window than the window frame, sashes and glass and their parts. Some parts aren't in all windows. Others aren't visible. But, they are important to know about.
Balance – This hidden window part allows a single- or double-hung window to stay balanced as it is opened and closed.
Lift – Although always referred to as a lift, it's the small protrusion you use in a sliding window and single- or double-hung window to open and close it.
Lock & Catch – The window lock and it's complimenting catch are important for security. Investigate what the lock on the windows you're considering looks like. They are not all the same.
Tilt Latches – Many windows allow for easy cleaning with latches that allow you to tilt the window into your home. They are found on the top of a sash of single- and double-hung windows.
Ventilation Locks – This feature allows for a window to be opened a few inches without allowing it opened all the way without holding them down. That add security around small children and on first floor windows.
Window Casing – What you see between the window frame and the wall.
There are a few other parts to windows but understanding these will help you with your new window purchase.
Let Blair Windows & Doors Help You Choose Your New Windows
At Blair Windows we only offer high quality new and replacement windows. If you're looking at vinyl windows, ours are always fusion welded frames and sashes. We also only offer windows that meet current ENERGY STAR® requirements for energy efficiency – we have many options for both a double-pane window and triple-pane window. Let us help you choose the right windows for your home today by calling (317) 356-4666 or filling out our contact form today to schedule your free consultation.