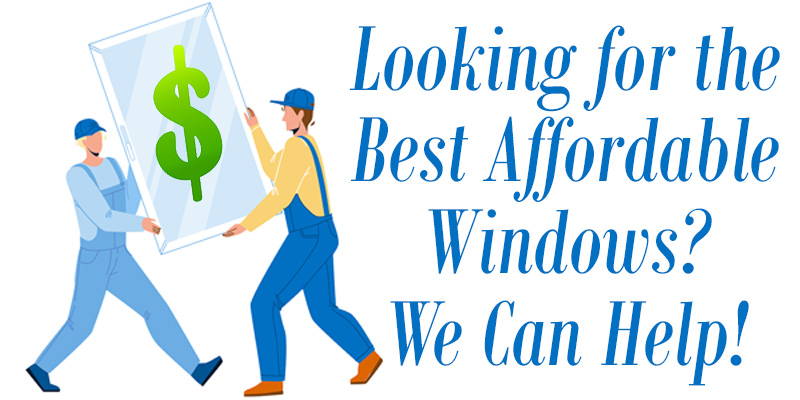 Buying new windows is an investment. You want quality windows. Most homeowners look for energy efficiency and may have a color window in mind. Some want vinyl, others another material. Of course, there are different style windows. Finding the best affordable windows means something different to everyone. So how do you find the windows that meet your requirements and are within your budget?
Start with an Independent Window Company
Admittedly most of the independent window companies don't sell the national brands you see advertised on television. That's because as an independent company, they sell and install the brands that they find to be the most affordable quality windows. Many offer more than one brand so that their customers in downtown Indianapolis who need a quality wood clad window get what they need and their customers in Fishers can find the best affordable windows (which may be vinyl rather than clad) for their home.
Understand the National Fenestration Rating Council Ratings
Every new and replacement window is independently tested by the National Fenestration Rating Council (NFRC). They evaluate the energy efficiency and other features like how much ultraviolet light it keeps out or how much daylight it lets in. This rating allows you to compare the windows to one another without relying on a sales person or manufacturer's claims. Your window company can provide the information from the NFRC for the windows you're considering.
Decide What Features Truly Matter
As we said, the best affordable windows to one person may not be the best affordable windows for another. For example, some homeowners want double-hung windows for easy cleaning and better ventilation. Others rarely open their windows and always pay someone else to clean them so the added cost of a double-hung window isn't worth it. If you're planning an exterior remodel of your home, your design may require a certain color window, if that is the case, you may need to pay more than you would for a white window. What matters is that you choose windows that meet the criteria you have for new windows whether that's a style, color, grid pattern or even color of the hardware.
Trust Blair Windows for the Best Affordable Windows
Because we're an independent window company, we offer many leading brands of windows.  And, as a company with more than 70 years of history serving the Indianapolis area, you can trust that we'll not only help you find the best affordable windows, but also be there to stand behind our work. Call us today at (317) 356-4666 or fill out our contact form for your free in-home estimate.