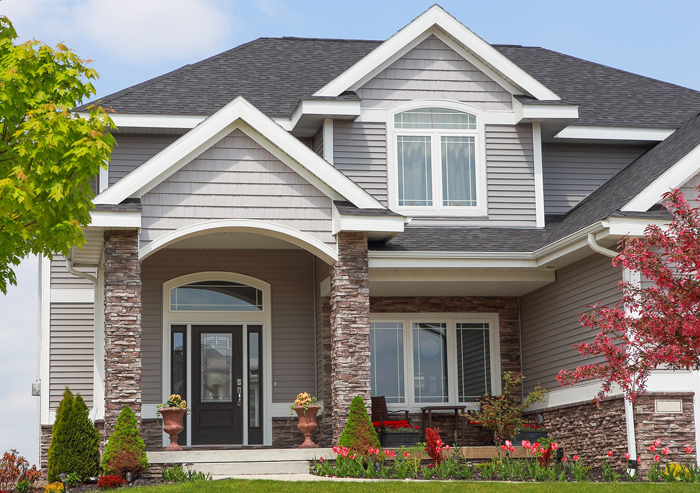 It may be surprising to learn that, just like everything else, windows follow trends. Some have greater staying power than others. Certain replacement window trends are regional. We're going to share with you what the industry sees as far as the window trends for 2023.
Black Replacement Window Are Still Popular
As far as a trend with real staying power, black replacement windows seem to be one. For the past four years, black replacement windows have grown in popularity. And, because one of the trends in exterior home design is high contrast between elements, we, and most of the window industry, agree that it will continue in popularity for the foreseeable future.
Casement Windows
Although double hung windows are still the most popular replacement window style, casement windows are emerging as one of the faster growing window trends. This started in the south about five years ago and continues to move north. One reason we believe this trend will continue is because of the aging population who sometimes have trouble lifting a double or single pane window to open it.
Energy Efficient Windows
Although most reputable window companies in Indianapolis only sell and install ENERGY STAR® rated windows, more homeowners are asking questions about windows that exceed the minimal rating. They are looking for ways to increase their home's energy efficiency as much as possible. Features like argon and krypton filled windows and triple pane windows with insulated frames are top sellers. All of these features add to the windows energy efficiency. You can easily compare windows through the National Fenestration Rating Council's rating for each individual rating.
Decorative Windows
Arched windows and transom window are again popular. During the 90's many architects included an arched window on the front of the home for visual interest. This is a re-emerging trend we're starting to see from homeowners designing new homes and who are doing extensive remodels. Arched windows (and transom windows) above the windows that open allow for more natural light without sacrificing privacy if you want to close blinds or drapes.
Let Blair Windows Help You Choose the Perfect Windows
Our experienced team is ready to help you choose the perfect windows for your home, whether you choose to follow one of the replacement window trends or not. Call us today at (317) 356-4666 or fill out our contact form to schedule your in-home consultation and free estimate.